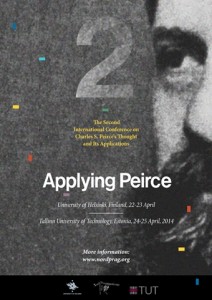 Helsinki, Finland & Tallinn, Estonia, 22-25 April 2014.
The second installment of the Applying Peirce conference, first held in Helsinki in June 2007, brings together Peirce scholars and researchers to explore and discuss Peirce's thought and applications in diverse fields.
The conference takes place at the University of Helsinki, Finland (22-23 April) and Tallinn University of Technology, Estonia (24-25 April).
The organizers invite submissions on any topic in accordance to the theme of the conference, especially proposals that explore the applicability of Peirce's thought to current questions and problems in various disciplines across the sciences and the arts.
For more information and the full call for papers, please see the conference webpage.