CENTRAL EUROPEAN PRAGMATIST FORUM Eighth International Conference Pragmatist Aesthetics, Ethics, and Politics June 9 – 13, 2014 University of Social Sciences and Humanities (SWPS) Wrocław,…
Read Article →

Tuesday, 3 June 14.00-14.10 Opening words 14.10-14.50 John Durham Peters & Benjamin Peters Norbert Wiener as Pragmatist 14.50-15.30 Sami Pihlström (University of Helsinki / University…
Read Article →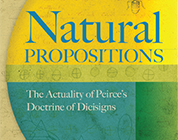 University of Copenhagen, Denmark, 15 May. A Humanomics Research Seminar and book launch reception at the faculty of humanities on Natural Propositions – the Actuality of…
Read Article →

Università degli Studi di Milano,, 2 April 2014. A workshop to commemorate Charles S. Peirce's centenary. For more information, see the conference programme (pdf).
Read Article →

University of Trieste, Italy, 24 March 2014. A one-day workshop on the connections between pragmatism and pragmatics is organized at the department of humanities at…
Read Article →

For anyone in the Frankfurt a/M. area during April 10-12, do not miss the conference organized by our friend Gabriele Gava (Goethe-Universität, Frankfurt am Main)….
Read Article →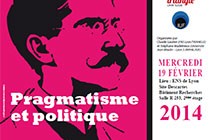 Lyon, France, February 19, 2014. A conference about pragmatism and politics with the participation of  Alice Le Goff (Université Paris Descartes/Cerlis) and  Roberto Frega (EHESS/Cems). The event…
Read Article →

Frankfurt am Main, Germany, 10-12th April 2014. The conference is organized by Gabriele Gava and Robert Stern with the research project Pragmatism and Idealism – Convergence…
Read Article →

Denver, Colorado, 6-8 March 2014: The European Pragmatism Association will arrange an invited panel at the annual meeting of the Society for the Advancement of American Philosophy. Speakers:…
Read Article →

Madrid, Spain, 3-4 December 2013. A conference on Richard Rorty will take place in Alcalá de Henares (Madrid), organized by Centro de Estudios Dewey en España…
Read Article →