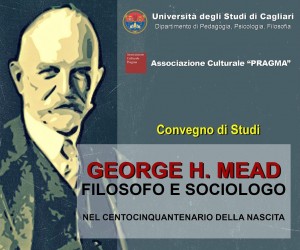 Cagliari, Italy, 17 -19 October 2013.
The three-day conference "George H. Mead filosofo e sociologo, nel centocinquantenario della nascita" will be held at Università degli Studi di Cagliari.  The event, organized by the Inter-university Research Center "Pragmatismo, Costruzione dei saperi e Formazione" together with Pragma Association and conceived by Prof. Anna Maria Nieddu, aims to discuss Mead's thought and its role into scientific and philosophical contemporary debates. Opening lecture will be given by prof. Hans Joas (Freiburg Institute for Advanced Studies).
For more information, see the conference program.